2M 20X PoE IR Outdoor IP Camera
2M 20X PoE IR Outdoor IP Camera
NP6202HAIBP
Add to inquiry box
Production Information
2M 20X PoE IR Outdoor IP Camera
PoE power supply
Programmable 255 preset positions
4 Pattern tours, each one with 160 secs memory,
500 programmable instructions
8 auto scan tracks with settable left-right boundaries and scan speed
8 cruising tracks, each cruising track has 16 preset points
Wiper is equipped to keep a clear and crispy image
Includes built-in fan and heater
IP66 water proof and IK10 vandal proof
MODEL

NP6202HAIBP

Camera

Image Sensor
1/2.8" progressive scan CMOS
Effective Pixels
1920x1080@30fps, 1920x1080@25fps,
1280x720@30fps, 1280x720@25fps
Zoom Ability
20x optical zoom; 16x digital zoom
Focal Length
f =4.7 mm ~ 94.0 mm
F1.6 (wide) ~ F3.5 (tele)
IRIS
Auto / Manual
Day & Night
Auto / Color / Black and White
Focus Mode
Auto / Manual
S/N Ratio
more than 50dB
BLC
On / Off
WDR
On / Off
White Balance
Auto / Manual
Shutter Time
1 ~ 1/10,000 sec
Min. Illumination
Color: 0.05Lux@(F1.6,AGC On)
B/W: 0.01Lux@(F1.6, AGC On )

Network

Max. Image Resolution
1920×1080
Dual Stream
Support
Security Measures
Password protection, Multiuser access control
Protocols
TCP/IP,HTTP, DHCP,DNS,DDNS,RTP, RTSP,PPPOE, NTP,UPNP,SNMP,FTP,
802.1x,QoS,HTTPS,IPv6,SIP,SRTP,ONVIF
Interface
1 network interface,1 power input
Audio
Support
microSD Card Slot
Yes

Pan & Tilt

Pan Range
360° endless
Pan Speed
Pan Manual Speed: 0.01°-360°/s, Pan Preset Speed: 360°/s
Tilt Range
-10° ~ 90° (Auto Flip)
Tilt Speed
Tilt Manual Speed: 0.1°-120°/s, Tilt Preset Speed: 120°/s
Number of Preset
255
Group
8 patrols, up to 16 presets per patrol
Swing
8 scans with settable left and right boundaries
Pattern
4 patterns, up to 500 instructions per pattern
Auto scan
1 auto scan

IR LED

IR LED
10 high power array IR leds
IR Range
150M
IR Action Mode
Auto / Manual / Camera
IR Led Power
20W

General

Wiper
Standard Configuration
Power Box
Fixed
Power Supply
Built-in EA-PD01AT-60 Splitter / DC12V / 5A (Optional)
Power Consumption
60W
Working Temperature
-35°C ~ 55°C
Working Humidity
90% or less (No Condensing)
Protection Level
IP66 water proof / Level 2 lightning protection / 3KV surging prevention / IK10 vandal proof
Mounting
Various mounting modes option: wall-mount, pendant-mount
Weight
6kg
Accessories
Wall-mount bracket

Note:
For PoE function, we suggest using EA-PSE01AT-95 or compatible 802.3AT 95W injector.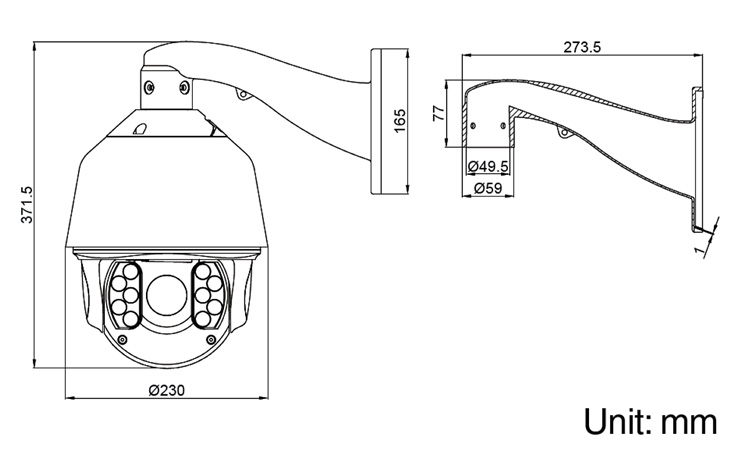 PoE power supply
Programmable 255 preset positions
4 Pattern tours, each one with 160 secs memory,
500 programmable instructions
8 auto scan tracks with settable left-right boundaries and scan speed
8 cruising tracks, each cruising track has 16 preset points
Wiper is equipped to keep a clear and crispy image
Includes built-in fan and heater
IP66 water proof and IK10 vandal proof
MODEL

NP6202HAIBP

Camera

Image Sensor
1/2.8" progressive scan CMOS
Effective Pixels
1920x1080@30fps, 1920x1080@25fps,
1280x720@30fps, 1280x720@25fps
Zoom Ability
20x optical zoom; 16x digital zoom
Focal Length
f =4.7 mm ~ 94.0 mm
F1.6 (wide) ~ F3.5 (tele)
IRIS
Auto / Manual
Day & Night
Auto / Color / Black and White
Focus Mode
Auto / Manual
S/N Ratio
more than 50dB
BLC
On / Off
WDR
On / Off
White Balance
Auto / Manual
Shutter Time
1 ~ 1/10,000 sec
Min. Illumination
Color: 0.05Lux@(F1.6,AGC On)
B/W: 0.01Lux@(F1.6, AGC On )

Network

Max. Image Resolution
1920×1080
Dual Stream
Support
Security Measures
Password protection, Multiuser access control
Protocols
TCP/IP,HTTP, DHCP,DNS,DDNS,RTP, RTSP,PPPOE, NTP,UPNP,SNMP,FTP,
802.1x,QoS,HTTPS,IPv6,SIP,SRTP,ONVIF
Interface
1 network interface,1 power input
Audio
Support
microSD Card Slot
Yes

Pan & Tilt

Pan Range
360° endless
Pan Speed
Pan Manual Speed: 0.01°-360°/s, Pan Preset Speed: 360°/s
Tilt Range
-10° ~ 90° (Auto Flip)
Tilt Speed
Tilt Manual Speed: 0.1°-120°/s, Tilt Preset Speed: 120°/s
Number of Preset
255
Group
8 patrols, up to 16 presets per patrol
Swing
8 scans with settable left and right boundaries
Pattern
4 patterns, up to 500 instructions per pattern
Auto scan
1 auto scan

IR LED

IR LED
10 high power array IR leds
IR Range
150M
IR Action Mode
Auto / Manual / Camera
IR Led Power
20W

General

Wiper
Standard Configuration
Power Box
Fixed
Power Supply
Built-in EA-PD01AT-60 Splitter / DC12V / 5A (Optional)
Power Consumption
60W
Working Temperature
-35°C ~ 55°C
Working Humidity
90% or less (No Condensing)
Protection Level
IP66 water proof / Level 2 lightning protection / 3KV surging prevention / IK10 vandal proof
Mounting
Various mounting modes option: wall-mount, pendant-mount
Weight
6kg
Accessories
Wall-mount bracket

Note:
For PoE function, we suggest using EA-PSE01AT-95 or compatible 802.3AT 95W injector.